THE YEAR IS 1987… 
The Victor Hugo musical adaptation,"Les Miserables", makes its official Broadway premiere in New York City, with more than $4 million in advance sales.
Gary Hart announces his candidacy for the President of the United States, only to be thwarted months later by a relentless tabloid-fueled press feeding frenzy based on rumors spread by other campaigns about his alleged sex life, forever altering the American press landscape to latch onto salacious and lurid stories—despite polling at the time showing that the majority of the American population does not care about a politician's sex life.
Aretha Franklin becomes the first woman inducted into the Rock and Roll Hall of Fame and Whitney Houston becomes the first woman to debut an album at number one with her sophomore self titled outing "Whitney".
The Fox Broadcasting Company makes its "grand opening", expanding their programming into primetime, which means that this is also the first debut of "The Simpsons", the cartoon that first aired as a short on the Tracey Ullman Show.
And Michael Eisner announces plans to open something called Euro Disney with the President (and former Prime Minister) of France, Jacques Chirac—a venture that will no doubt be fruitful and not filled with horrible mismatched cultural couplings.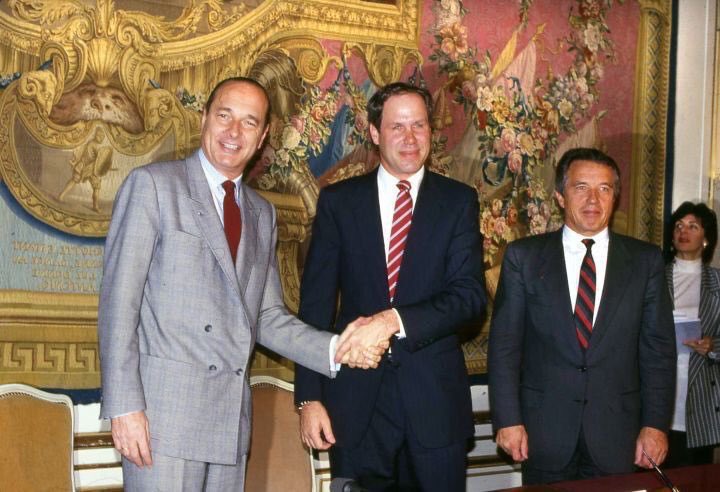 AND SPEAKING OF HORRIBLE MISMATCHED COUPLINGS…
"Roxeanne" opened the weekend of June 19th, 1987, against heavy competition. It premiered at fifth place behind adult supernatural comedy "The Witches of Eastwick", hyper-machismo sci-fi pulp "Predator", big time comedy sequel "Beverly Hills Cop 2" and fellow reimagining adaptation "The Untouchables". It did, however, beat out its direct competiton, "Benji the Hunted", which opened the same weekend.
The next week, "Roxanne" would be blown out of the water again by two comedy juggernauts: the satire master Mel Brooks's "Spaceballs" and the TV adaptation of "Dragnet", starring fellow "Saturday Night Live" uber-host Tom Hanks and cast alum Dan Ackroyd.
"Roxanne" ended up doing very well though, with fairly positive reviews—some of them glowing—and it was considered a nominal success, pulling in about $40 million during its run. It opened at fewer than 1,000 theaters, and expanded to more during the second or third week, but then dipped back down.
This film marks the first solo writing effort from Steve Martin, who previously collaborated on many other scripts with the likes of Carl Reiner, Terri Garr, Buck Henry, Car Gottlieb of "Jaws" fame, and Lorne Michaels. This is also Martin's second executive producer credit after 1986's Three Amigos, which he also co-wrote.
"Roxanne" was a labor of love that Martin had wanted to do for over 10 years, based on the 1897 play "Cyrano de Bergerac" by Edmond Rostand. Cyrano has been directly adapted to film 10 times, with the titular role played by José Ferrer, Gérard Depardieu, Christopher Plummer and Kevin Kline. There have been even more derivations from the source text, such as the Japanese films "Life of an Expert Swordsman", starring Toshiro Mifune; a gender-swapped modern interpretation in "The Truth About Cats and Dogs"; and even an animated superhero reimagining in Megamind.
According to interviews, Martin loved the play when he saw it as a teenager, and he absolutely adored the film performance of José Ferrer in the 1950 version. For years, he begged other people to write a modern adaptation—including the playwright Neil Simon—before deciding just to do it himself, and he spent about a decade writing and re-writing over 100 drafts of the script.
The choice to direct was Fred Schepisi, an Australian-born director, mostly known for dramatic and sometimes visually arresting works. And the Oscar-winning make-up artist Michael Westmore, who worked with Schepisi on "Iceman" previously and many Star Trek productions, was brought on board. Westmore, who won an Oscar for his work on "Raging Bull", said in interviews that this is one of the most difficult jobs he ever had because he had so little to work with. Each one of the prosthetics Steve Martin wore was modeled to fit just like a foam rubber nose. And they went through basically at least one a day during production.